Given the interest in the chestnut article, today we will take a closer look at one of the many variants of castagnaccio. It is important to note that this cake has poor and very ancient origins: it seems that it was already common in the 16th century and it was produced with water and chestnut flour only. There are not many certainties about this cake's origin, but in Commentario delle più notabili et mostruose cose d'Italia e altri luoghi, a book dated 1553 written by the Italian humanist Ortensio Lando, it is claimed that the first man to prepare this typical dish was Pilade da Lucca, about whom we do not know much else. From the 19th century, Tuscans began to export castagnaccio all around Italy.
Castagnaccio is an autumnal cake, naturally gluten and lactose-free, that is both compact and soft at the same time. Each area, in many cases each person, has their own version of this famous cake. Here is one of the most common.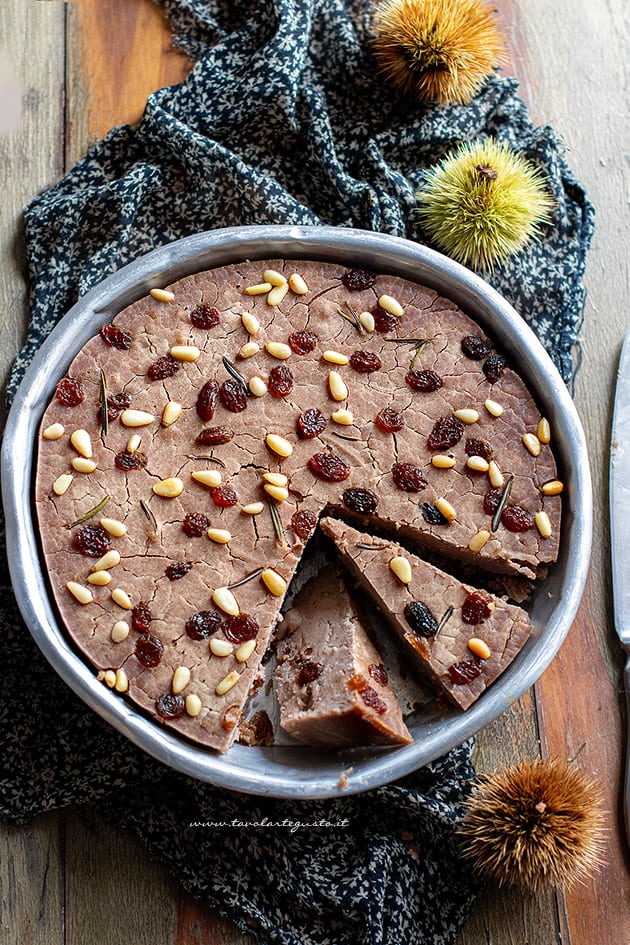 In order to bake a good castagnaccio, you'll need these ingredients:
500g chestnut flour
650g water
100g pine nuts
A sprig of rosemary
80g raisins
100 walnuts
40g extra virgin olive oil
5g salt
It is quite easy to prepare: soak the raisins, then chop up the walnuts and remove the rosemary leaves from the stem. Sift the flour and add the water little by little, mixing with a whisk. Once a smooth mixture has been obtained, add the walnuts, the pine nuts and the raisins, keeping a little of each apart for decorating. Mix and add the salt. Oil a shallow baking tray of 32 centimetres in diameter and pour in the mixture. Top with walnuts, raisins, pine nuts and rosemary. Drizzle some oil and bake in a preheated static oven at 195°C for about 35 minutes.
We conclude this article with a fun fact: according to an ancient legend, the aroma of the rosemary would make anyone who smelled it fall in love! Girls used to offer castagnaccio to boys they were infatuated with to make them fall in love and receive a marriage proposal!
WEBOGRAPHY
-https://ricette.giallozafferano.it/Castagnaccio-alla-Toscana.html (last access on 11/11/2021)
-https://www.cucchiaio.it/ricetta/ricetta-castagnaccio/ (last access on 11/11/2021)
-https://www.tavolartegusto.it/ricetta/castagnaccio-la-ricetta-originale/ (last access on 11/11/2021)
-https://it.julskitchen.com/dolci/il-castagnaccio (last access on 11/11/2021)
https://www.taccuinigastrosofici.it/ita/news/contemporanea/panini-e-cibi-di-strada/castagnaccio-o-baldino-o-pattona.html (last access on 11/11/2021)
— Written and translated by Margherita Paolinelli.